If your child loves to wake up early and you've finally managed to persuade them to sleep in past 6.00am, you may be dreading the clock change on Sunday 30th October…..overnight you're back to facing the day at 5.00am again!
But worry not….help is at hand, Mandy Gurney, Founder of Millpond Children's Sleep Clinic, shares her top tips to minimise the disruption to sleep in your household. With a little advanced planning you can proactively prepare your child for the clock change.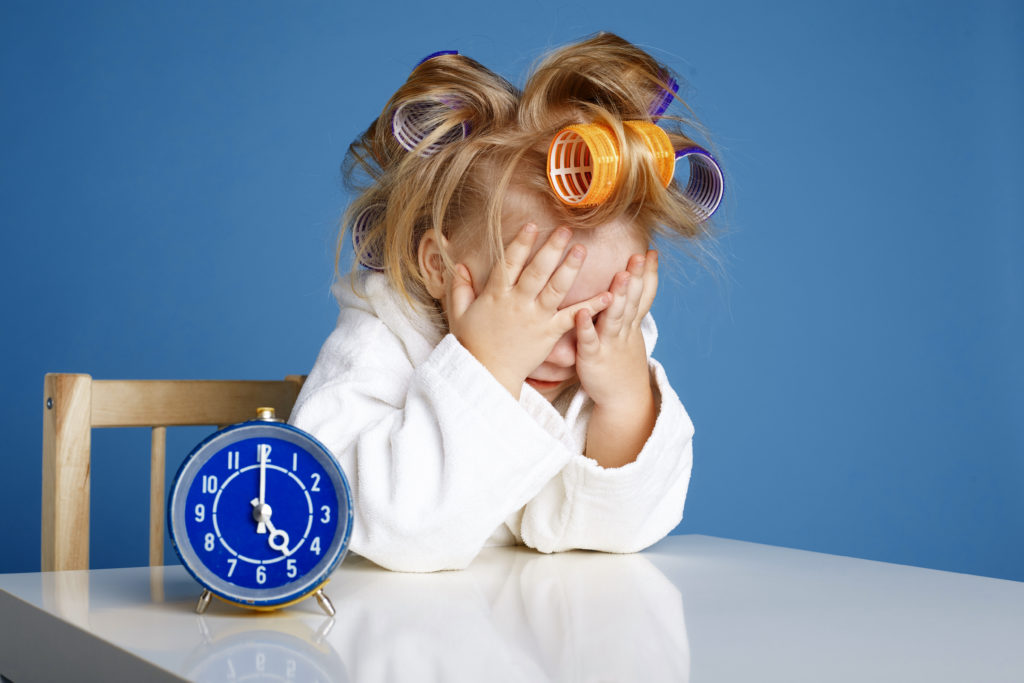 Here's how….
Tip 1:
Prepare your child's body clock
About 10 to 12 days before the clock change start putting your child to bed 15 minutes later than usual. For example if their usual bedtime is 7.30pm, move this to 7.45pm.
After three nights of the new time, shift bedtime by another 15 minutes, so it is now 8.00pm.
Continue repeating this process until the bedtime has moved an hour later.
Initially your child may still wake at the same time in the morning, but by shifting their body clock slowly this way, you will find the morning will soon catch up.
Remember to shift naps, meal and milk times as well.
Tip 2:
Let the light in:
Light has the biggest influence on our body clocks.
Encourage your child to play outside in the afternoon light, as this will help to keep them up that little bit later at bedtime.
Tip 3:
Wind down before bed:
An hour before sleep, encourage your child to have a wind down time. Do something relaxing such as reading a book together before you start their bedtime routine.
However make sure you avoid any screens at this time, research has shown that bright light from these screens can interfere with the production of melatonin the sleep hormone.
Tip 4:
Your bedtime routine:
About 30 minutes before your child goes to bed carry out the same series of steps every night. Having a regular routine that you follow each night will enable your child's body to prepare for sleep as soon as you start this.
A warm bath-
Have a warm, relaxing bath lasting no longer than 10 minutes. A bath before bed should not be playtime as this could over stimulate your tired child. Go straight into the bedroom and get your child ready for bed.
Bedroom lights-
Dim the lights in the bedroom ready for your return from the bath, as this will help with the production of the sleep hormone melatonin.
Story time-
Read one or two quiet stories or sing a gentle lullaby. Have a cuddle and kiss goodnight and tuck them in with their favourite soft toy.
Time to sleep-
Once they're drowsy, leave the bedroom so that they learn to fall asleep independently. Your child should be asleep about 15 minutes later.
Tip 5:
Morning feeds and meals:
It is best to delay your child's milk and breakfast by 15 minutes every few days too, so they don't wake early for food.
Tip 6:
Is it time to get up?
To help your child know when they can get up in the morning set up a lamp with a low watt bulb and plug this into a timer switch in their room.
Set the light to come on 15 minutes later than they would normally get up.
Explain that they must stay in bed until the light comes on in the morning, even if initially this means you have to stay in the room with them to enable this to happen.
If your child stays in bed until the light changes give them kisses and cuddles to show how pleased you are.
As you shift bedtime later, move the time on the switch later.
Don't be tempted to move any quicker than this as your child may struggle to wait and it won't work.