What we're loving!
Here at Millpond Sleep clinic, we love to collaborate with like minded and experienced parenting providers and our friend Elaine Halligan at The Parent Practice is here to help.
Elaine says
"The thing with parenting is that nobody prepares you for the pitfalls. You spend months learning how to deal with the pregnancy and the pros and cons of different pain relief for the birth, but nobody explains the reality of what it means to have children and to have the responsibility of bringing them up to become adults. When you're sleep deprived, stressed, and juggling parenthood and work, challenging behaviour can feel even harder to handle."
Elaine's story, as told in her book 'My Child's Different', documents how she transformed herself and her parenting approach, and was able to support her son who had been excluded from 3 schools in so many years and eventually finished his education as Head Boy and went on to become a budding entrepreneur.
Do check out her TED x talk Elaine Halligan: Neurodiversity is a super power not a problem | TED Talk.
Elaine says of herself
" I'm not Wonder Woman or Super Nanny. I'm not Mary Poppins or Nanny McPhee, I'm just me (and in essence, I'm probably you) and that's what makes me different. I've been in your shoes, I've been at the end of my tether wondering why my child is different and what I can do to support him. I've learned first hand the skills it takes not just to survive the struggle but to get to the other side and change the story.  

It is my mission to create a happier future generation by sharing parenting strategies that will have an authentic impact, transforming challenging children into confident and contented children with my personal style and a positive approach."
Elaine offers a range of online parenting courses and bespoke coaching to help you and your family have more harmony at home and to give you the toolkit to stay calm.
Try her 30 tips, 30 days £30 online course.
This is good parenting made simple. For an investment of just £1 a day and less than 5 minutes of your time, you'll receive a daily video with a life changing parenting tip or exercise for you to implement.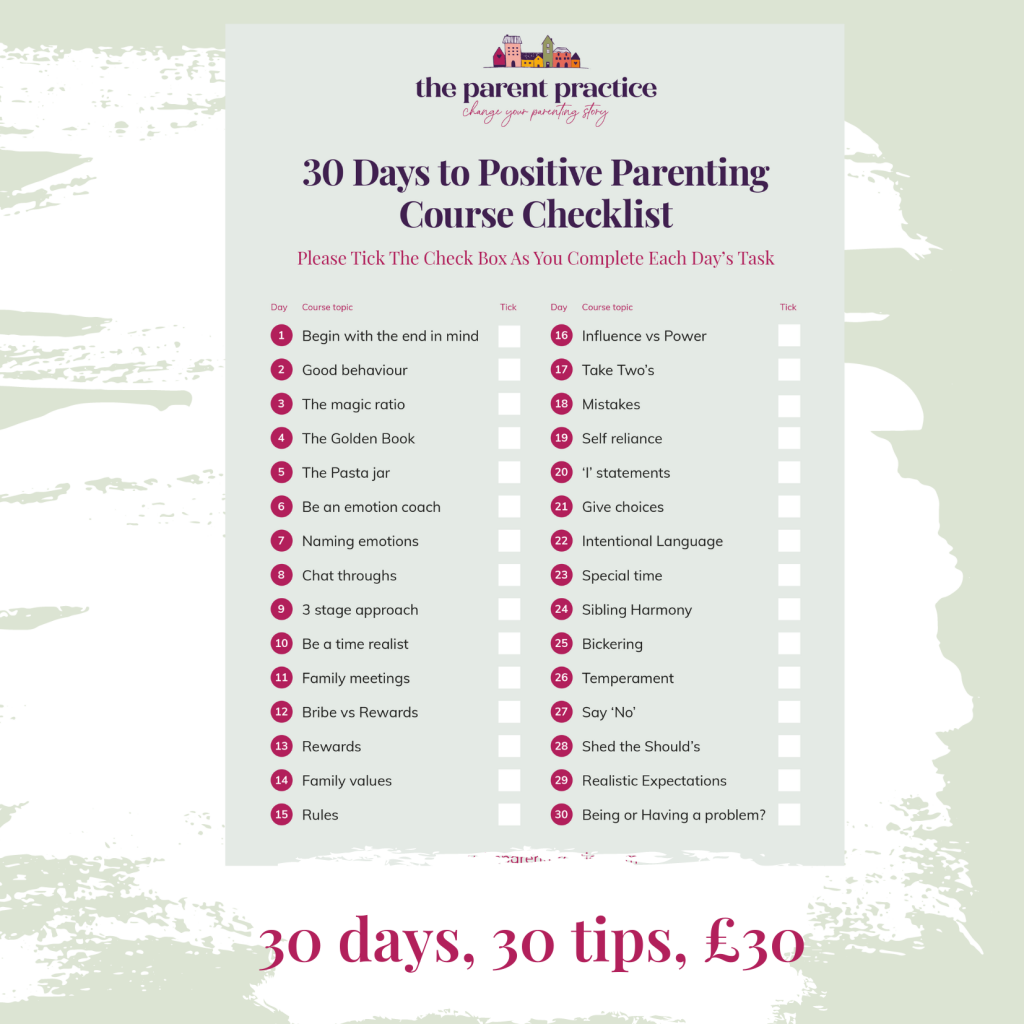 Achievable yet effective, this course is for busy parents who want to change their parenting style with bitesize exercises that are simple yet impactful.
30 Days to Positive Parenting | The Parent Practice (teachable.com)