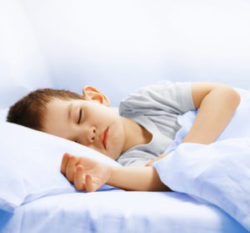 What you need to know about your child's sleep
At Millpond Sleep Clinic we frequently hear "old wives tales" that parents have had handed down from well-meaning family and friends. So to help you sort the facts from the fiction we dispel the top most common sleep myths
Myth 1: All babies should be able to sleep from 7pm to 7am
A common question for parents is how much sleep their babies and children should be getting. The amount of sleep each child needs can vary greatly. While some small children may well be able to sleep for 12 hours, for other children a 10 hour night could be just right for them. New studies are currently being carried out to look at how much sleep children are getting in 24 hours to enable parents to have the most accurate information about their children's sleep.
Myth 2: Children outgrow all sleep problems
Just as children need to be taught many things in life, learning how to sleep well in their early years not only reaps immediate psychological and physical rewards but also teaches good habits for life. Research has shown that people who had poor sleep habits as a child are more susceptible to sleep problems as an adult.
Myth 3: Routines don't matter; a child will fall asleep when they're ready
Children thrive on simple repetitive routines as they feel safe and secure, knowing what is coming next. Aim to carry out the same series of steps every night, about 30 minutes before your child goes to bed. Having a regular bedtime ritual makes it easier for them to relax, fall asleep and sleep through the night.
Myth 4: Cutting out naps will help your baby sleep through the night
Naps are vital to babies and young children; in fact, at 3 months old, 30% of a baby's sleep occurs in the day. Napping time declines as children get older but most children will still need some sleep in the day at 3 years old. A regular nap makes bedtime easier and children sleep better overnight.
Myth 5: TVs and technology in the bedroom for children is OK
Recent research has shown the more TV children watch in the evening the less sleep they have. Researchers have also found that children with one or more electronic devices in the bedroom were far more likely to be overweight or obese. The blue light from screens interferes with the production of the sleep hormone melatonin. It is thought that even 2 minutes of exposure to this light could delay sleep by 2 hours. The advice is to turn off all devices at least an hour before sleep.
Myth 6: Running around just before bed gets rid of that last bit of energy
Children need to relax and be calm an hour before sleep. Running about just before bedtime could give them a "second wind" and prevent them falling asleep.
Myth 7: A child full of energy at bedtime is just not sleepy
Rather than being lethargic, young children will often seem very active when they are tired.