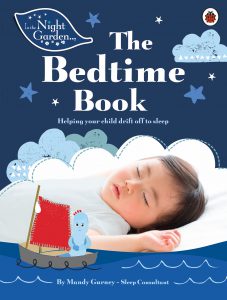 In The Night Garden The Bedtime Book
We are pleased to announce that we've been busy writing an innovative new bedtime book for children: In the Night Garden The Bedtime Book. It's out now, published by Ladybird Books.
The book is unique in that it is split into two sections: a bedtime routine for parents to follow with their child every night and a magical bedtime story that allows children to join Igglepiggle on a journey to find his bedtime boat, and help your child relax alongside their favourite Night Garden friends as they get ready for bed…
We've written the beautifully illustrated book in lullaby-like language and created the story to help children recognise how natural the process of sleep is. For example, as Igglepiggle makes his way through the garden he comes across all the characters in the book settling down for sleep. This story about all their favourite In The Night Garden characters will reassure young children that everyone sleeps and that they should also take pride in being able to sleep well too. The rhythmic narrative is complemented by key repetitive phrases and suggestive words, such as "close your eyes" and "snuggle down" that children will find relaxing and suggestive of sleep.
This book can be read every night as part of your regular bedtime routine with your child. We have included a specially devised relaxation technique to use after the story, which will banish even the most stubborn restless energy. The routine, story and relaxation work together to make a winning recipe for a good sleep every night. The book draws upon the tried and tested methods used by us at Millpond Children's Sleep Clinic.
A handy tool for parents trying to encourage their children to go to sleep, this In The Night Garden book is a new and essential stage in your bedtime routine. You can buy your copy here.