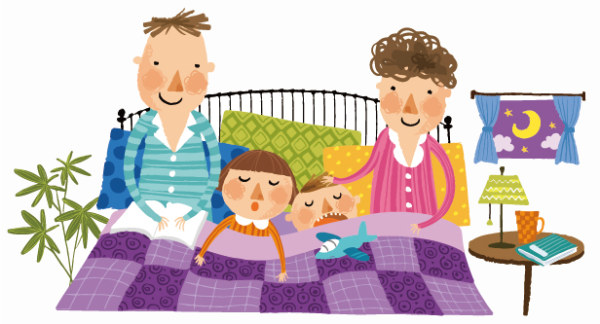 Why bed share
Bed sharing is what nearly all parents used to do when most families were large and dwellings small.  It still is the norm in many parts of the world, often for cultural rather than economic reasons. There are obvious attractions to sleeping in the same bed as your baby or toddler: it is comforting for both the parent and child, and the parent can deal with night waking or night feeding without the inconvenience of getting out of bed. And evidence has shown bed sharing babies breast feed longer than those who don't.
On the other hand it can take time to get used to sleeping next to a wriggly child, it may be hard to move your child out of your bed when you feel the time is right and for some couples bed sharing with their child can have an impact on their close relationship.
Whether you decide to share your bed comes down to personal choice but it is important to know the potential dangers involved and how to make it as safe as you can.
Recent research has concluded that parents should not bring a new baby into their bed for the first six months because, statistically, this is the time of highest risk of cot death.  The Lullaby Trust recommends the safest place for babies to sleep in the first six months is in a separate cot or Moses basket in the same room as their parent.
Tips for bed sharing
If you choose to bed share consider these tips to keep your baby safer:
Make sure there is no space between your mattress and the wall into which your baby could slip.
Don't place your baby in the middle of the bed between you and your partner.
Don't use duvets or eiderdowns or any loose sheets or bedding of any kind on your bed that could obstruct your baby's breathing or causes them to overheat and remove the pillow where your baby is sleeping.
Only share your bed with your baby if you have enough room.  If it is too cramped, your baby could get squashed or fall out.
Create a special 'baby space' in your bed, using a sleep nest.
Don't bed share if your baby weighs less than 2.5 kg or is premature (37 weeks or less) as this is strongly linked to an increased risk of SIDS.
Never sleep with your baby if either you or your partner:

Has recently drunk any alcohol.
Taken recreational drugs.
Is on medication including pain killers.
Are excessively tired.
Alternatives:
If you are unsure about having your baby in your bed but want to sleep physically near, you can use a bedside co-sleeper cot that is specifically designed to fit up against your bed. The side is removed and the cot acts as an extension of your bed space. Or just simply place your baby's cot next to your bed.