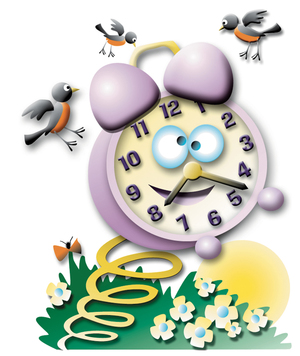 What impact will the clock change have on your child's sleep and is there anything  you can do in advance to help them move seamlessly into the new time zone?
The clocks spring forward on 29th March 2020 and at last the official British Summer time begins. We can say goodbye to the cold dark winter and even though we loose an hour of sleep that night, the benefits of the longer brighter days ahead more than make up for it!
Your child may not be ready for sleep at their normal bedtime and may lay awake, restless in bed unable to fall asleep.Then when the morning comes  it's hard to get them up  and they are groggy and not ready to  start the day.
Our top tips to avoid bedtime battles and morning meltdowns when the clocks change…
For about 2 weeks leading up to the clock change start putting your child to bed 15 minutes earlier.
You will need to move the start of their bedtime routine, nap times and just as importantly meal times too.
Do this slowly, shifting the time earlier every 3 or 4 days.
The aim is to advance your child's body clock so they are able to fall asleep an hour earlier than before.
Just as importantly you will need to wake them up 15 minutes earlier in the morning.
In the run up to bed give your little one clear consistent signals that bedtime is coming with a focused winding down routine. Try including a short calming bath, a quiet story, a cuddle and then into their cot or bed.
Keep the bedroom darkened to help promote the sleep hormone melatonin and just use a small nightlight to help prepare your child for bed.
As soon as you can in the morning get the family into daylight, this will help suppress the sleep hormone and wake your little one up.
If your child is already an early riser and 5.00 am is their usual wake up time, there is nothing you need to do to prepare other than enjoy a lie-in.
Then you can embrace the lighter mornings and longer days!
Written by Mandy Gurney Founder of Millpond Children's Sleep Clinic