The sleep problem: frequent night waking
Before working with Millpond, Gilly and her family were extremely sleep deprived and finding everyday life really hard work. Read below Gilly's story in her own words and then Juliet's tips on how she helped improve sleep for the whole family.
The success story:
Tola, our 5 month old, was waking every 30 minutes all night and we were all exhausted. A friend recommended Millpond Sleep Clinic.
The service was quick and easy including receiving our sleep plan on the same day so we could start straight away. Our sleep therapist, Juliet's suggestions made a huge difference and on the first night Tola slept for 4 hours in a row.  We were able to build up to a routine that continued to improve both Tola's day and night sleep.
Now at 9 months, Tola has her naps in the cot, self-settles to sleep, knows her routines, and is nearly sleeping through the night.
The impact on our whole family has been huge. I now have time with my older daughter while Tola naps in the cot (instead of only in the sling). My husband and I can spend our evenings together again and actually have time to talk rather than just trying to get as much sleep as possible. Tola is happy and energetic during the day.
The phone calls and emails with Juliet kept me on the right track and her suggestions always made a big impact straight away. It has definitely changed our lives. Thank you.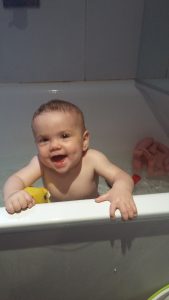 Sleep Tips:
Try to avoid your baby falling asleep sucking at bedtime
Sucking to sleep at bedtime can become a sleep association. For example, if your child falls to sleep sucking at bedtime then they may come to rely on a suck to get them back to sleep when they come into light sleep throughout the night.
For Tola we changed the order of her bedtime routine.  She had her milk downstairs in a quiet room before starting her bedtime routine. Then instead of sucking to sleep at bedtime she was cuddled to sleep and within a few nights she had settled into the new routine.
Spacing of night feeds
If your child wakes very frequently through the night it may not always be because they are hungry.
Initially we spaced Tola's feeds so they were about 3 hours apart: if she woke in between her feeds she was cuddled back to sleep. This was a gentle way of encouraging self settling and helped to change the habit of Tola sucking to sleep not only at bedtime but also during the night.